Inspire WMC founder scoops the Z.A.A Community Champion Award.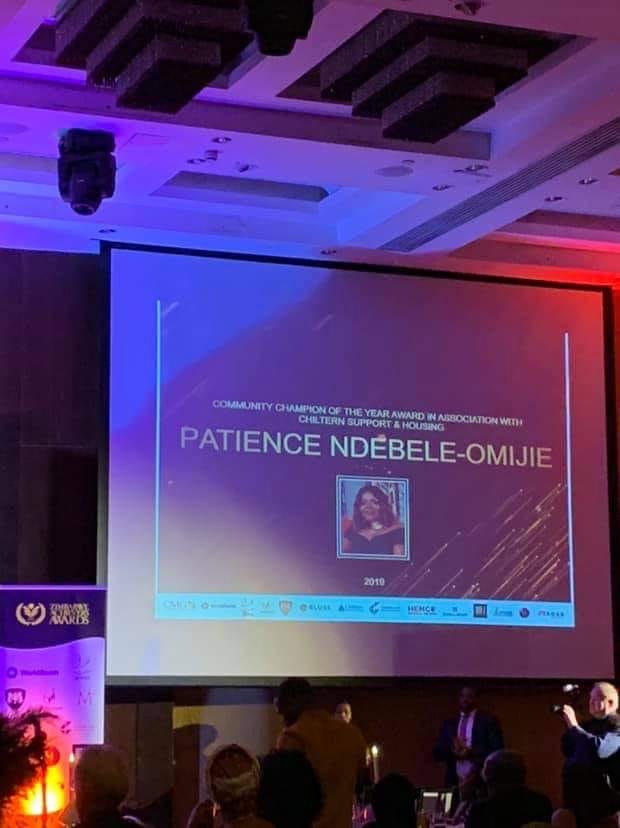 ON the 25th of May, Inspire Women Men and Children founder, Patience Ndebele-Omijie, received a Community Champion of the Year award from the prestigious Zimbabwe Achievers Award (ZAA) UK 2019. Patience Ndebele-Omijie was honoured at the Z.A.A UK ceremony held at the Millennium Gloucester Hotel in London.
The founder of Inspire Women Men and Children (Inspire WMC) was voted the best out of four other nominees under the Community Champion of the Year category.
Inspire Women and Children is a non-profit that has been working tirelessly in advocating for causes aimed at educating women and men, solving social ills while ensuring the well-being of youths and children through initiatives such as reusable sanitary pads training, vocational skills training in Pelandaba and agriculture-related projects in Umguza. The organisation has also been conducting food aid programs in several primary schools and the Umguza community including Maraposa, Semukelani, Dundubala, Mahlotova and Matonisa between 2014 and 2019.
Commenting on the achievement, Patience Ndebele-Omijie said: "The award came as a surprise to me and as an organisation, we are humbled to be recognised by Z.A.A UK for serving our community. I am grateful for having a team of passionate staff members, dedicated volunteers who work diligently to empower the lives of women and children in both Zimbabwe and the UK. This means a lot to me and we are yet to bring more programs to make a difference in our community."
She added: "We are forever indebted to our supporters because this award would not have been possible without their donations and contributions that enhance our daily activities. This is not my recognition as the leader of the organisation but of many people in Zimbabwe and UK who have brought in efforts and talents for the success of the organization."
The founder urged other organisations to remain committed to working hard towards transforming lives in their communities.
"Community organisations should be led by their passion for their causes. They should remain determined in serving their community and one day their efforts will be acknowledged." Ndebele-Omijie said.
Inspire WMC was also nominated along with other four organisations under the Community Champion Organisation category, an award that was taken by Budiriro Trust.
Zimbabwe Achievers Award UK is a special award that recognises and honours UK based Zimbabweans and organisations that have pushed the limits against all odds to positively contribute to their home communities and beyond