Graduation ceremony for January intake students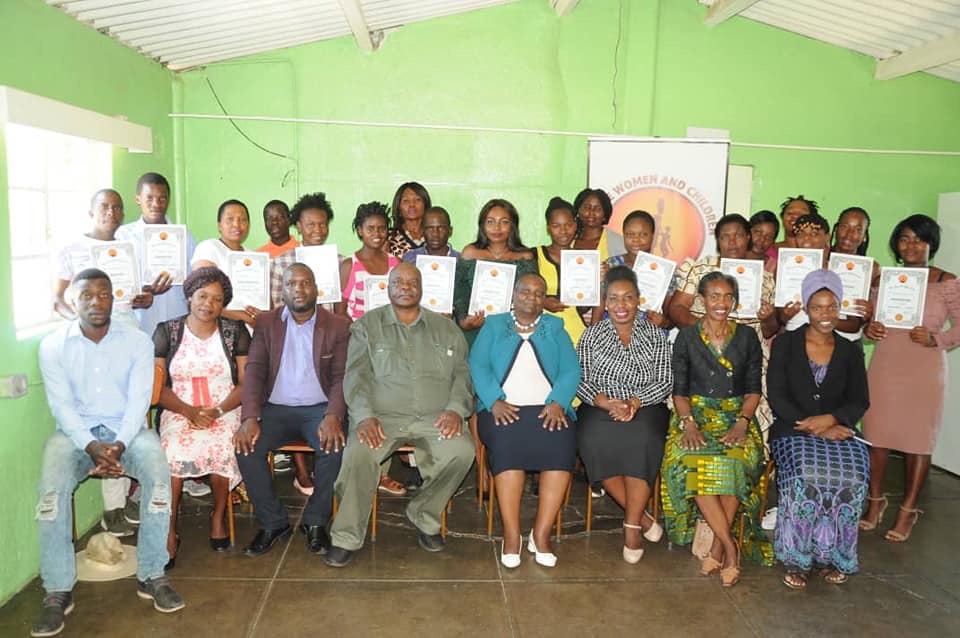 THE Inspire Women and Children Skills (Inspire WC) Centre in Pelandaba yesterday held its very first graduation ceremony for January intake students.
Some of the graduates and guests pausing for a photo.
The event which was graced by the Bulawayo City Council Assistant Director Housing and Community Services, Mrs. Thumamina Khumalo as the guest of honor saw twenty seven students graduating in Basic Baking, Afrocentric, ICT, Grooming and Etiquette, Skin Care and Make Up .
In her speech, Mrs Khumalo said she was delighted to recognize the skills obtained by young girls and women in the Pelandaba community.
"I am glad to see what Inspire Women and Children has done to the community of Phelandaba. I believe women should be dynamic in everything they do. This program is relevant as it answers to gender responsiveness which entails the promotion of women's skills." Said Mrs Khumalo
She added: "I applaud Inspire Women and Children for their involvement in community development and I urge them to expand the project to other parts of the city."
According to Gift Muteletwa, the Inspire WC's programs coordinator, the graduates have gained valuable skills necessary to start their income generating projects.
"The graduates are ready to generate money using their skills but as an organisation we are going to continue supporting, mentoring them and checking their progress for the whole year" she said.
Among the interviewed graduates was a 19 year old Samantha Mhlanga who did a course on Basic Computers and got a job during her industrial attachment period.
"I chose the course because it's one of my passions. I am grateful to Inspire Women and Children for the experience. I did my industrial attachment at Falcon Electrical and they offered me a job. I am already doing working while awaiting to go to college. I want to train as a teacher and definitely I will teach computers." Said Miss Mhlanga.
Samantha holding her certificate
Another graduate, Nontobeko Ndlovu (27) who studied Skincare and Makeup said she was excited about the future as the course has boosted her career.
"This is exciting because I am a hairdresser but before I joined the IWC Skills program, I didn't know much about beauty and makeup. The skills I've gained will allow me to offer both hairdressing, beauty and makeup to my clients. My dream is to open my beauty parlor to offer hairdressing, beauty and makeup services.
Nontobeko, now beauty and makeup artist pausing for a photo
Another graduate, Samukeliso Mahlangu (46) who studied Afrocentric said the Inspire Women and Children's Skills program exposed her hidden talents and gifts.
Lady Samukeliso in the shoes she customized by and for herself
"I didn't know I could do clutch bags, jewellery and customize shoes. My dream is to establish my own fashion line/brand and export my products to other countries. Said Mahlangu.
The Inspire WC Skills Centre is a vocational training centre located in Pelandaba offering young girls and women from high density suburbs and wider Bulawayo area with short courses to ensure self-reliance and independence.
The short courses include dressmaking, beading, jewellery making, beauty & makeup, baking, home decor & catering, financial literacy, handbag making, hair band making, business management, photography, web design & graphic design among others.