Inspire WMC breaking the silence on Gender-based Violence in Umguza District.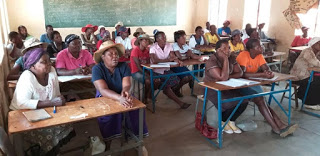 Inspire Women Men and Children (Inspire WMC) held a Gender-Based Violence (GBV) awareness workshop on the 5th  of August in celebration of the organisation's founder, Patience Ndebel-Omijie's birthday.
The founder had launched a birthday fundraiser on Facebook in June to source funds towards the workshop held in Mahlothova Primary School in Umguza District. The workshop had a turnout of 35 men and women from different local villages.
According to the World Health Organisation, one in three women will experience violence in their lifetime. In Zimbabwe, 1 in 3 women have experienced physical violence and 1 in 4 Zimbabwean women have experienced sexual violence. Source: UN Women Africa
In response to high prevalence and widespread of GBV, the workshop was aimed at encouraging the rural community to have conversations about GBV issues. The workshop covered different topics such as gender-awareness, terms and definitions, gender roles and responsibilities as GBV is often perpetuated by normative role expectation and unequal power relations between genders in a community.
As a champion for gender equality, we aim to reach out to more communities with more GBV campaigns and help put a stop to gender-based violence as we believe that the community plays a critical role in protecting women, the youth and children.
As Inspire WMC, we are grateful to everyone who supported a good cause by donating in cash or kind towards the fundraiser that made the workshop to be a success. As an organisation driving social justice, we believe that we should create more platforms for dialogues on issues affecting our communities.
It is through such awareness workshops that we can come up with solutions and tools to fight against gender-based violence.
If you would like to partner with us on a similar campaign or project, email: inspirewomenandchildren@hotmail.com If you would love to donate please use: Inspire Women and Children HSBC 40436560021709 or send Ecocash to +263 772743113